What is The Skateboard Hangar™?
THE SKATEBOARD HANGAR™ is the first hanger of its kind which allows you to hang your board in the closet over the clothes rod or from a nail in the wall.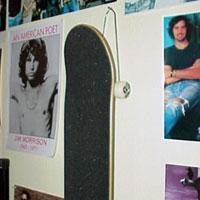 Advantages of using The Skateboard Hangar™ include:
You get your board up off of the floor and make it a showpiece!
'Hang it high so younger kids can't reach it!
Keeps you board from: being tripped on, being run over, Mom or Dad throwing it out!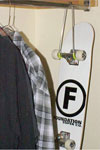 Ideal storage for almost any location
Bedroom closets
College dorm rooms
Garages
Basements
Entryways
Laundry rooms
Storage rooms